News story
Urban innovation in Brazil: apply for business funding
Businesses can apply for a share of up to £2.4 million to work with Brazilian partners on innovative urban development solutions for cities.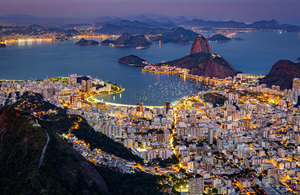 Innovate UK has up to £2.4 million to invest in innovative projects that help to improve life in Brazilian cities.
This competition aims to encourage innovative partnerships between the UK and Brazil. It is looking for projects that address one or more of the following urban challenges:
the governance of urban systems
urban infrastructure
sustainable urban environments
Brazilian cities face challenges
Brazilian cities face many challenges, including outdated infrastructure, the impact of climate change and dwindling resources, and the need to improve collection of information to inform policy-making,
The United Nations estimates that the global urban population in 2050 will be nearly 70%. In Brazil, it is already greater than 85%.
Brazil also represents a huge potential market for UK companies.
Competition is co-funded in Brazil
The UK element of the competition is funded by Innovate UK as part of the UK-Brazil Newton Fund. The Newton Fund is part of the UK government's official development assistance and uses science and innovation to improve economic development and social welfare in 16 partner countries.
The competition is co-funded in Brazil by the Ministry of Industry, Foreign Trade and Services, the Brazilian Development Bank and Embrapii, the Brazilian Agency for Industrial Research and Innovation.
Competition information
the competition is open, and the deadline for registration is noon on 26 April 2017
projects must be led by a UK business working with at least one Brazilian partner
we expect projects to last between 12 and 24 months
we expect the total costs of UK businesses to be between £500,000 and £700,000
UK businesses could receive up to 70% of their eligible project costs
a briefing event for potential applicants will be held on 14 November 2016
Published 8 November 2016