News story
Updated travel advice for British nationals requiring assistance to leave Libya
We urge any remaining British nationals in Libya to leave as soon as they can safely do so. You should not rely on further assisted evacuations.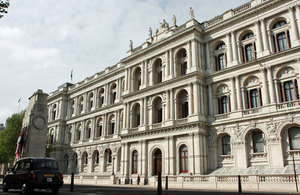 Following UN Security Council Resolution 1973 a No Fly Zone is in force over Libya. Libyan airspace is closed to all traffic and all flights out of Libya are suspended. There are no confirmed scheduled boats from any ports in Libya. Shipping options can arise at short notice.
We advise British nationals in Libya to register with us by calling +44 (0)20 7008 6865 between 08:30 and 18:00 (UK time) Monday to Friday so we can advise you of any exit options that arise.
Outside of these hours British nationals requiring assistance should call +44 (0)20 7008 1500. If you have already left Libya, or you know of British nationals who have recently departed Libya by other means, please call us on +44 (0)20 7008 6865 so we know you are safe and do not need to make further enquiries.
We understand that roads to the Tunisian and Egyptian land borders are open. We have had reports of violent incidents along these routes so proceed with extreme caution. These routes may close in the near future.
Please keep checking our travel advice for the latest information.
Published 18 March 2011