Press release
Update on Single Payment Scheme
Agriculture Minister Jim Paice updated Parliament today on the progress of payments to farmers under the Single Payment Scheme. Mr Paice said…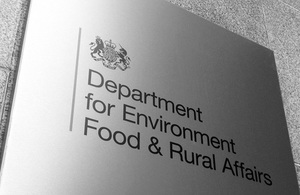 Agriculture Minister Jim Paice updated Parliament today on the progress of payments to farmers under the Single Payment Scheme.
Mr Paice said:
"30 June marked the end of the regulatory payment window for payments under the 2010 Single Payment Scheme (SPS.)  At that point, the Rural Payments Agency (RPA) had paid a total of £1.75 billion to some 103,604 claimants.  That leaves a total of some 594 claimants to be paid up to a maximum of £25 million.  It is likely that further work will reveal that some of these cases are not eligible for payment and most of the remainder cannot be paid at present due to reasons such as probate.
"These figures demonstrate that RPA has succeeded in paying over 99% of eligible claimants within the payment window and met the EU benchmark of 95.238% of the total value of payments to be made, so avoiding the prospect of late payment penalties.  This is particularly pleasing given the focus this year on ensuring accuracy of payments in order to begin drawing a line under the legacy of IT and data problems that have dogged the Agency since the chaotic implementation of SPS in 2005.  Significant progress has been made on legacy data correction activity so providing greater confidence for farmers about their subsequent scheme year payments. Nevertheless, I recognise that a significant number of farmers had to wait longer than usual for the payment, which I regret.
"I recognise also that there remains much for the Agency to do in terms of making payments to both the remaining 2010 claimants, including top ups to those who received an initial hardship payment, and those who are due additional sums for the 2005-2009 schemes.  The remaining backlog of potential error cases also needs to be reviewed and overpayments notified to claimants and recovered.   This significant volume of work will be undertaken alongside processing of 2011 scheme payments.
"Over the summer, the RPA Chief Executive, Mark Grimshaw, will be developing a strategic plan for the Agency with his new executive team.  This will include an evidenced based review of what the payment timetable for SPS 2011 might look like, to be both challenging and realistic.   The plan will be put to the RPA Oversight Board for approval in the autumn and the final version published soon after.  More generally, the Board will continue to monitor the Agency's efforts closely to ensure a line is finally drawn under all the legacy data issues over the coming year."
Published 5 July 2011