News story
Update on flooding - Wednesday 23 December
Government information and advice on the latest flooding forecast.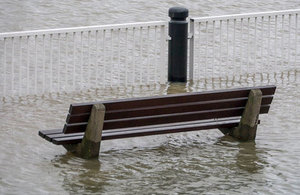 Environment Secretary Elizabeth Truss said:
We are doing all we can to support Cumbrian communities during this difficult time as we face unprecedented levels of rain and possible further flooding over Christmas as more rain falls on heavily saturated ground.

I have huge sympathy for those affected - it's a terrible situation for already hard hit communities and is tougher still because of the time of year.

Today I chaired a meeting of the Government's COBR committee to ensure every resource available is being deployed in the right place. The weather reports and river levels are constantly being updated and we are adjusting all of our plans to fit the most up to date information so we protect communities in the best possible way.

We have over 700 Environment Agency staff ready to respond to flooding, alongside armed forces personnel, as we prepare for all potential scenarios.

Around 85% of the country's temporary flood barriers are now in the county, many more sandbags are being delivered to areas shown in the latest forecasts to be most at risk. More than 20 extra pumps are in the north of England, four of these are high volume pumps capable of moving one metric tonne of water per second.

EA staff are also working round the clock checking and maintaining flood defences, clearing blockages in watercourses and monitoring water levels.

Our priority continues to be protecting lives, protecting homes and protecting businesses.

The Flood Minister Rory Stewart is in Appleby from tomorrow morning (24 Dec) to ensure the right help is getting through.

When I visited the area last week I saw for myself the fantastic community spirit and the incredible work of high vis heroes on the frontline - that work continues.

We have already put forward £60 million to help these communities get back on their feet since the floods first hit earlier this month - we will continue to do what it takes to keep people safe and help the area recover.

In the longer term we have established the Cumbrian Floods Partnership to consider what more can be done to protect these towns and villages from future flooding.

While it's too far out to predict precisely what the weather will do, we know there will be further storms on Boxing Day. People should continue to look at EA advice over the coming days as a clearer picture emerges.
Published 23 December 2015