Press release
Up for the Cup
As today marks the closing date for ticket applications for this year's World Cup, football fans who missed out on applying can still snap up memorabilia celebrating the tournament.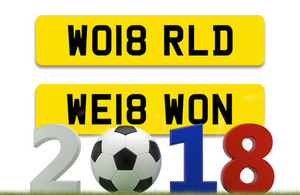 Historically, football memorabilia can go for hundreds of thousands of pounds. The most expensive item sold in the UK was an original FA Cup, dating from 1871, which went under the hammer for £420,000 at Christie's in 20051.
The most expensive items of World Cup football memorabilia ever sold include2:
Jules Rimet Trophy replica £254,500
Nobby Stiles' 1966 World Cup medal £188,200
Alan Ball's 1966 World Cup medal £164,800
Pele's 1970 second-half World Cup final shirt £157,750
Gordon Banks' 1966 World Cup medal £124,750
Geoff Hurst's 1966 World Cup final shirt £91,750
Ray Wilson's 1966 World Cup medal £80,750
Pele's 1958 World Cup final shirt £70,505
Pele's 1970 first-half World Cup final shirt £66,500
Alan Ball's 1966 World Cup final shirt £51,755
Football fans looking to secure a memento on a smaller budget could pick up a World Cup 2018 inspired personalised registration from DVLA.
Fans of the beautiful game can use the website's search facility to find the perfect football-themed plate for them with WO18 RLD, WE18 WON and FR18 NCE currently available.
Jody Davies, DVLA Personalised Registrations' Senior Sales Manager, said:
Football memorabilia clearly has a market and this top ten highlights how much people are willing to spend on commemorating the game. But with more than 50 million registrations available on our website there are almost endless possibilities for football fans to celebrate their passion for the sport and their team, from just £250.

Motorists can get into World Cup fever straight away with 18 registrations now available.
Notes to editors:
Personalised registrations can be bought 24 hours a day online. A dedicated team can also help customers find the registration they want over the phone by ringing 0300 123 0883. Lines are open Monday to Friday, 8.00am to 4.30pm.
1 Guinness World Records
Press office
DVLA Press Office
Longview Road
Morriston
Swansea
SA6 7JL
Email press.office@dvla.gsi.gov.uk
Monday to Friday 8:30am to 5pm - only for use by journalists and the media: 0300 123 0791
Out of office hours - only for use by journalists and the media: 0300 123 2407
Published 31 January 2018