Press release
University of Central Lancashire launched in Sri Lanka
Foreign Secretary William Hague praises educational links between Britain and Sri Lanka and says education helps build peace and stability.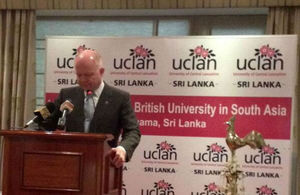 The Foreign Secretary, William Hague, has praised the launch of the University of Central Lancashire's new campus in Sri Lanka today, which will open to students in 2015. This campus will be the first from overseas to open in South Asia and will bring UK expertise and standards of excellence to the region.
British qualifications are by far the most sought after in Sri Lanka, with students and parents seeking British education from primary level to higher education. Approximately 8000 young Sri Lankans obtain UK school qualifications each year, while 35,000 acquire professional qualifications through the British Council.
The Foreign Secretary unveiled the plaque for the campus. Members of the Sri Lankan Government and education professionals attended the event.
The Foreign Secretary William Hague said:
I am pleased to take part in the launch of the University Of Central Lancashire campus in Sri Lanka, marking the significant strengthening of educational links between the people of Britain and Sri Lanka. Education is a significant factor in building peace and stability and this British new campus should be celebrated.
Malcolm McVicar Group Chief Executive of UCLAN Group said:
We are delighted that William Hague, Foreign Secretary, has unveiled the plaque symbolising the Group's planned campus in Sri Lanka. The University Group has an ambitious internationalisation strategy and is delighted at the support it is receiving in Sri Lanka to take this exciting project forward. UCLAN Lanka will complement the work of existing universities and bring new opportunities for individual students. This is the first British University to build a campus in South Asia.
Further information
The Sri Lankan Government has recently opened up the education market allowing foreign universities to have campuses in Sri Lanka. The University of Central Lancashire is the 5th largest university in the UK in terms of student numbers.
The Sri Lankan Government's aim is to develop the country as a regional 'knowledge hub' and boost its economy. With private education a growth sector in Sri Lanka, the UK, through the High Commission and UKTI Colombo, is working with UK educational providers to increase the British footprint in the local market.
Find out more about The University of Central Lancashire
The British Council has offices in Sri Lanka
Follow the Foreign Secretary on twitter @WilliamJHague
Get all the UK's news and updates from the Commonwealth Heads of Government Meeting
Follow the Foreign Office on twitter @foreignoffice
Follow the Foreign Office on facebook and Google+
Published 16 November 2013