World news story
Universal Periodic Review of Uganda at the Human Rights Council
UK statement delivered on 3 November 2016.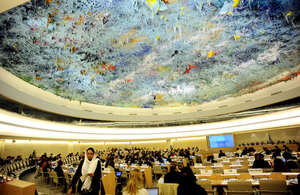 The UK welcomes progress made by Uganda since 2011 to improve the institutional framework for the protection of human rights, including the establishment of human rights desks within key ministries and the parliamentary standing committee. The UK also commends the Government's progressive policy towards refugees.
Political parties, NGOs and the media play a vital role in holding the government to account on service delivery, challenging corruption, improving governance and protecting human rights.
In implementing legislation we therefore urge the Government to protect fundamental freedoms of association, assembly and expression and to ensure an open and conducive operating environment for political parties, NGOs and the media.
We recommend Uganda:
• Amends the Public Order Management Act in line with international best practice, as set out by the Special Rapporteur on Freedom of Peaceful Assembly and Association in his March 2016 joint report to the Human Rights Council
• Consults a broad range of civil society actors and reflects their views within the Non-Governmental Organisations Regulations 2016, in order to ensure an open, accountable and vibrant NGO sector.
Published 3 November 2016