World news story
Universal Periodic Review of Lithuania at the Human Rights Council
UK statement delivered on 2 November 2016.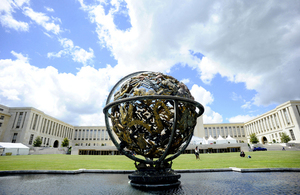 The UK commends Lithuania on the completion of its national report and its constructive engagement with the UPR. We appreciate Lithuania's commitment to strengthen and protect human rights over the reporting period.
The UK is pleased to note progress on our recommendations from Lithuania's first UPR on efforts to tackle domestic violence. We are partners in the work to end gender inequality and tackle Violence Against Women and Girls. The UK welcomes the steps Lithuania has taken to develop the legal and institutional framework for combating trafficking in human beings, with the adoption of anti-trafficking legislation.
The UK welcomes the establishment of the Department of National Minorities to focus implementation of policy. This combined with a focus on social justice, offers a tangible demonstration of Lithuania's commitment to protect and take an inclusive approach towards national minorities. We hope that this good work will continue during the next Lithuanian government.
We commend Lithuania on the successful hosting of Baltic Pride in 2016 and hope that this positive trend in supporting and empowering the LGBTI community will continue.
We have 2 recommendations:
• To ensure effective legal frameworks are in place that enable the reporting, investigation and prosecution of cases of discrimination or hate crimes on the grounds of Sexual Orientation and Gender Identity.
• To provide more direct social assistance and relocation support to victims of trafficking, enhance efforts to prevent the factors behind continued trafficking, and ensure effective prosecutions of the perpetrators.
Published 2 November 2016