World news story
Universal Periodic Review 30: Turkmenistan
This UK statement was delivered during the 30th session of the Universal Period Review during the discussion of Turkmenistan's Human Rights Record on 7 May 2018.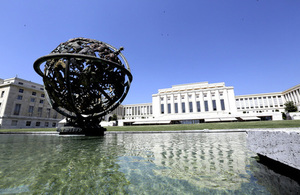 The UK welcomes Turkmenistan and notes positive developments, including the Human Rights Ombudsperson appointed in 2017 for five years.
However, the UK remains concerned by allegations of torture, incommunicado detentions, and restrictions on access to justice and access to information, including on social media and the internet. We are also concerned by continuing restrictions on freedoms of movement, expression, association and religion or belief, and the use of forced labour to harvest cotton.
We recommend Turkmenistan to:
Sign the Optional Protocol to the Convention against Torture (OPCAT), enabling independent inspection of prisons and detention centres.

Take concrete measures to protect and respect individuals' rights to exercise freedom of religion or belief and freedom of expression, including on the Internet, social media, and in traditional media, including by preventing harassment of journalists operating in the country.

Work in partnership with the ILO to eliminate forced labour in connection with state-sponsored cotton harvesting.
Published 7 May 2018