World news story
Universal Periodic Review 30: Cameroon
This UK statement was delivered during the 30th session of the Universal Period Review during the discussion of Cameroon's Human Rights Record on 16 May 2018.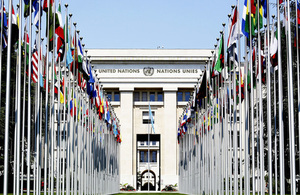 We welcome Cameroon and thank them for their national report.
We note Cameroon's enactment of a new penal code in July 2016, and welcome the many provisions addressing women's rights, particularly gender inequality, sexual violence and female genital mutilation. We will continue to work with the authorities to address areas where the new penal code touches on freedom of assembly.
We welcome the reconnection of the internet following the three-month shutdown in its North-West and South-West Regions in 2017. The Anglophone crisis has led to violence and disruption for many people. Reports of human rights violations are concerning, especially in areas affected by conflict. We urge the Government and all other parties fully to respect and to safeguard human rights.
We have three recommendations:
Ensure full and effective implementation of the 2017 National Action Plan for the Elimination of the Worst Forms of Child Labour.

Allow and facilitate unhindered humanitarian assistance wherever required to provide relief for the affected population.

Grant the ICRC or other reputable international agency access to Anglophone separatist leaders extradited from Nigeria and detained incommunicado since January.
Published 16 May 2018