World news story
Universal Periodic Review 30: Burkina Faso
This UK statement was delivered during the 30th session of the Universal Period Review during the discussion of Burkina Faso's Human Rights Record on 7 May 2018.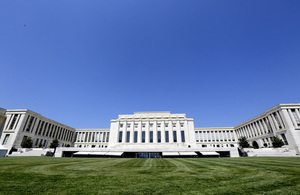 We thank Burkina Faso for their presentation today.
We note Burkina Faso has maintained a moratorium and taken steps to repeal the death penalty. We would call on the government to announce an abolition of the death penalty in all circumstances.
We welcome adoption of human rights legislation though would like to see greater focus on tackling violence against women, combatting human trafficking, ensuring access to education, especially for girls, and efforts to counter radicalisation.
We also reiterate our desire to see further progress to ensure independence of the judiciary
We recommend:
ratification the Second Optional Protocol to the ICCPR, with the ultimate aim of abolishing the death penalty in all circumstances

development and implementation of an anti-trafficking strategy

adopting an open, merit-based process when selecting national candidates for UN Treaty Body elections
Published 8 May 2018