World news story
Universal Periodic Review 27: UK Statement - Tunisia
This statement was delivered by the UK on Tunisia at the 27th Session of the Universal Periodic Review.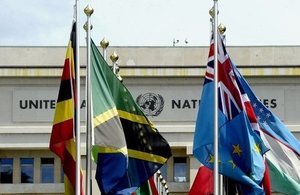 The UK welcomes Tunisia's 2014 Constitution and encourages Tunisia to continue to implement the rights it guarantees and to operationalise the Consitutional Court without further delay.
We welcome the strong efforts of the Tunisian government to stamp out torture, including the amendment to the Code of Criminal Procedure, but are concerned by the continued reporting of individual cases. We urge Tunisia to ensure that these cases are pursued and perpetrators held to account.
We have 3 recommendations:
To accelerate the creation of the Constitutional Court and the Constitutional bodies, ensuring that they and other institutions, including the National Authority for the Prevention of Torture, are independent, adequately resourced, and swiftly operational.

To continue to develop a national strategy through the National Authority for the fight against human trafficking, and, as part of this, to ratify the 2014 ILO protocol to the Forced Labour Convention.

To adopt an open, merit-based selection process when selecting national candidates for UN Treaty Body elections.
Published 2 May 2017