Press release
Universal Credit roll-out progresses
Next step in the roll-out of Universal Credit and the reforms to the welfare system.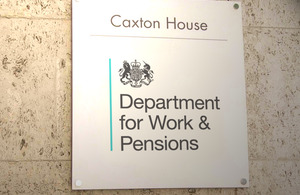 Today (1 July 2013) marks the next step in the roll-out of Universal Credit and the reforms to the welfare system that will support those who work hard and want to get on.
Jobseekers in Wigan will be able to make a claim to Universal Credit from today, with people in Oldham and Warrington being able to make claims on 29 July. The majority of claims to Universal Credit will be made online.
Universal Credit launched 10 weeks ago in the Greater Manchester and Cheshire areas when Ashton-Under-Lyne began accepting Universal Credit claims and 3 other Jobcentres started trialling the Universal Credit Claimant Commitment and signing people up to Universal Jobmatch.
Minister for Welfare Reform Lord Freud said:
We are fixing the welfare system so it rewards people who want to work hard and is fair for the taxpayers who fund it.

Universal Credit is being introduced in a slow, safe and controlled manner to ensure we get this vital reform right and I'm already encouraged by its progress.

New jobseekers have successfully claimed Universal Credit online, the IT and support has worked as it should and we're in a strong position for the next step in the roll out of Universal Credit in the pathfinder areas.
The progressive national roll-out of Universal Credit will start from October.
The first claimants to Universal Credit are single jobseekers. These Universal Credit claims will respond in real time to changes in people's circumstances, including when people move back into work.
People who claim Universal Credit have access to support delivered by a mix of local authorities and third sector organisations to help them budget their money and get online and manage their claim online.
More information
Universal Credit replaces Income-based Jobseeker's Allowance, Income-related Employment and Support Allowance, Income Support, Working Tax Credit, Child Tax Credit, and Housing Benefit.
Jobcentre advisers and claimants agree a Claimant Commitment, based on their individual circumstances, which will clearly set out the jobseeker's responsibilities to find work.
When a claimant starts work, Universal Credit will be steadily withdrawn as their income increases.
Universal Credit was introduced in the first pathfinder area on 29 April.
The roll-out of Universal Credit will be completed across the UK by 2017.
Press Office
Caxton House
Tothill Street
London
SW1H 9NA
London Press Office (national media and London area enquiries only – not questions about personal claims) 020 3267 5144
Out-of-hours (journalists only) 076 59 108 883
England and Wales (local media enquiries) 029 20 586 then 097 or 098 or 099
Scotland (local media enquiries) 0131 310 1122
Media enquiries for this press release 0203 267 5111
Follow us on Twitter www.twitter.com/dwppressoffice
Published 1 July 2013