World news story
Universal Childhood Day Photo Competition
Photo competition to find the best images which demonstrate the meaning of childhood in the Palestinian territories.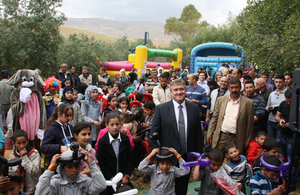 To celebrate Universal Children's day, The British Consulate General through its UK in Jerusalem Facebook page is launching a competition to search for the best images which demonstrate the meaning of childhood in the Occupied Palestinian Territories. We are looking for images that are creative, positive and of good quality.
So join us and send us your photos to ukinjerusalem@yahoo.com .
Eligibility and rules:
The competition is aimed at amateur Palestinian photographers currently living in the West Bank, Gaza or East Jerusalem.
Photos must be a JPG format and a maximum of 2500 pixels wide (if landscape) or 2500 pixels high (if portrait) and a maximum size of 5Mb in JPG format. Images should be in standard RGB colour space.
You may only submit your own photographs that you personally took, and you will be responsible for any copyright violation committed in entries.
In entering, you agree to allow the Foreign and Commonwealth Office (FCO) to use your image on FCO social media channels, without restrictions, although credit will be given where appropriate.
We reserve the right to refuse entry of any photo that we feel is inappropriate, i.e. portraying violence or abuse
No submission will be accepted after the deadline Wednesday 10 December 2014 16:00 Jerusalem time.
Selection process:
The winning photo will be selected based on the number of Facebook likes it receives.
Prizes
Winner will receive a Sony H300 Digital Compact Camera
Winner will also get the opportunity to participate in one of the Consulate's social events and meet the British Consul General
Winning photo will be displayed at the Queen's Birthday Parties in 2015.
Published 20 November 2014