World news story
United Kingdom urges Guatemalan Congress to increase support for girls' rights
The British Ambassador to Guatemala, Sarah Dickson, joined a group of civil society organisations who visited Congress to demand action in favour of girls' rights. The United Kingdom supports the initiative to increase the legal marriage age for girls to 18.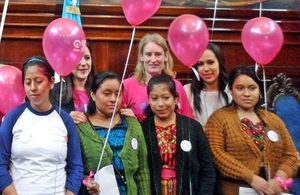 The Inter-Institutional Table in favour of girls, consisting of 13 local and international organisations, expressed their concern over the difficult circumstances faced by Guatemalan girls, including lack of access to education, early marriage and pregnancy, and domestic violence, amongst other problems.
These concerns are in line with the global efforts of the UK Government to tackle early and forced marriage and the British Embassy's support of legislative initiative 4746, aimed at raising the minimum marital age for girls and boys to 18.
A number of the UK's Programme Partnership Arrangements with non-government organisations include support for early and forced marriage programmes, particularly Plan International, Womankind Worldwide, the International Planned Parenthood Federation and World Vision.
According to official statistics, in the last five years more than 80,000 marriages of children under 18 have been registered in Guatemala. 4,983 of these involved girls from 10 to 14 years of age. The departments with the highest record of child marriages are Guatemala, Alta Verapaz and Huehuetenango.
To mark her visit to Congress British Ambassador to Guatemala, Sarah Dickson, said:
"For these girls marriage is not a choice, but something that happens to them with greater or lesser degrees of physical and psychological coercion. These girls are at far greater risk of experiencing dangerous complications in pregnancy and childbirth. With little access to education and economic opportunities, they are more likely to live in poverty. I urge the Guatemalan congress to amend the civil code and raise the marital age as a small step towards improving the rights of all girls in Guatemala".
Published 9 October 2014