World news story
United Kingdom reinforces international transparency principles amongst Guatemalan political parties
Transparency International and its local chapter in Guatemala, Accion Ciudadana, launched a UK funded seminar with the main Guatemalan political parties to address international transparency principles.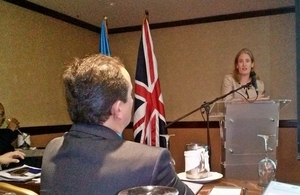 The aim of the workshop was to introduce to key politicians and political party officials the main transparency mechanisms that exist, and how they can be incorporated into their plans for government. Guatemala will hold a General Election later this year with more than 20 political parties participating to elect a President, Vice President, Congressmen and local Mayors.
The seminar was delivered by Roberto De Michele, an Anti Corruption expert from the Inter American Development Bank (IADB); Manfredo Marroquin from Accion Ciudadana, and Marvin Flores, an expert in public procurement. The workshop explored issues such as; the first generation of global measures against corruption, mechanisms to build national agendas towards improving transparency, and an introduction to the international conventions endorsed by Guatemala to combat corruption. The latter includes initiatives such as the Construction Sector Transparency Initiative (COST), the Open Government Partnership (OGP), and the Extractive Industries Transparency Initiative (EITI).
The seminar is sponsored by the British Embassy and implemented by Transparency International in Guatemala. The United Kingdom seeks to strengthen leadership and coordination capacity in the political sphere, and to help realise the benefits of the international initiatives endorsed by the Guatemalan Government. Transparency International is an organization with more than 100 national chapters worldwide that works with partners in government, business and wider society to put effective measures in place to tackle corruption.
To mark the inauguration of the seminar, Sarah Dickson, British Ambassador to Guatemala, said:
The United Kingdom and Guatemala continue to enjoy a close friendship based on a shared commitment to democracy, the rule of law and transparency. People around the world are demanding much greater openness, democracy and accountability from their governments. I sincerely hope this issue will continue to be a top priority for the new authorities in Guatemala next year. This workshop will drive that agenda forward, and the United Kingdom is willing to lead from the front.
Published 19 February 2015