World news story
United Kingdom hosts UK – Central America PPP conference
From 27 to 28 September Her Majesty's Treasury (HMT) in cooperation with the Foreign and Commonwealth Office (FCO) held a Public Private Partnerships (PPP) workshop in London, bringing together representatives from both UK and Central American governments and private sector.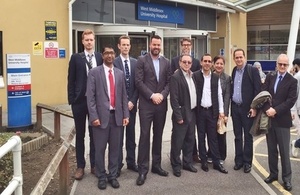 The Central American delegation was composed of 14 representatives from Guatemala, El Salvador and Honduras and included high officials from their respective congresses, the executive branch, PPP regulatory agencies, investment coordination bodies and the business community. Guatemala's representation was led by Lucrecia Ruiz, Executive director of the National Agency for the Alliances for Economic Infrastructure Development (ANADIE).
The workshop was delivered by Keith Waller and Javier Encinas from the Infrastructure Projects Authority, the UK's independent body within HMT which co-ordinates Britain's national infrastructure plan and has led the UK's PPP development for over twenty years, supported by James Beeson, Head of Central American Economic Affairs at the British Embassy in Panama.
The workshop, which took place in HMT's offices in London, covered international best practise in planning and delivering infrastructure development, focussing on the use of PPPs in achieving this, and how the UK's institutional structure helps to ensure effective delivery.
The group also visited PPP projects in London, such as the West Middlesex Hospital and Thamesside prison, to examine first-hand the various types of PPPs in the UK and how the approach is changed to deliver different objectives. They also met with the business community, including CityUK and Norton Rose Fulbright, to discuss upcoming infrastructure investment projects in Central America.
The UK – Central America economic relationship has been growing in recent years, including more British companies looking to invest in the region and more goods and services flowing between the countries. This was the first Central American business event since the UK decided to leave the European Union (EU). While the details have yet to be defined, Britain remains committed to free trade/open economies and the conference underscored UK efforts to foster local economic development, attract foreign investors, and strengthen the legal and regulatory framework in the Central American Northern Triangle.
Published 3 October 2016