World news story
United Kingdom, Guest of Honor Country at the FIL 2015 in Mexico
The agreement was signed by Lena Milosevic, British Council, and Raúl Padilla López, FIL Guadalajara, in the presence of Amb Duncan Taylor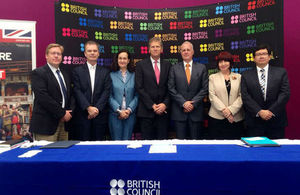 The United Kingdom will be the Guest of Honor at the 2015 Guadalajara International Book Fair. The agreement establishing this European region's presence was signed today at the offices of the British Council Mexico by Lena Milosevic, Director of the British Council México, and Raúl Padilla López, President of the FIL Guadalajara. Also present at the signing as witnesses of honor were Duncan Taylor, Ambassador of the United Kingdom to Mexico, and Marisol Schulz Manaut, Director of the FIL Guadalajara.
The agreement formalizes the United Kingdom's participation in the largest Spanish-language literary festival in the world, with its delegation of editors, writers and artists, who will represent the best of its culture and literature. "The Guadalajara International Book Fair is very excited to welcome the United Kingdom, home to some of the most important literature in history and the contemporary world, as the Guest of Honor Country. This region's presence at the FIL will be the ideal opportunity to showcase its historic legacy, and of course, its literary legacy," said Raúl Padilla López during the signing of the agreement.
Martin Amis, Jonathan Lethem, Patrick McGrath, Robert Coover, Peter Hoobs, Aminatta Forna, Owen Sheers, Adam Thirlwell and William Golding—the first Nobel Prize winner to attend the FIL Guadalajara—are some of the British authors who have visited the Fair in the past, added Padilla López. He also thanked Lena Milosevic for her efforts that made the signing of this agreement possible and emphasized "the happy coincidence that 2015 will be the year of Mexico in the United Kingdom, which will close on a high note with a final celebration at the FIL Guadalajara."
The agreement was signed between the FIL Guadalajara and the British Council of the United Kingdom of Great Britain and Northern Ireland. The British Council is the United Kingdom's international organization for cultural relations and educational opportunities. It has a presence in more than 100 countries throughout the world and works together with governments, artists and cultural and educational organizations with the goal of creating ties of trust and understanding between the countries in which it has a presence. With the United Kingdom as its Guest of Honor, the 29th Annual Guadalajara International Book Fair will be held from November 28 to December 6, 2015.
Published 1 September 2014