World news story
United Kingdom calls to protect the fundamental principles of a free press in Honduras
Today, on World Press Freedom Day the British Ambassador to Honduras, Thomas Carter, reaffirmed the UK's commitment to media freedom and protection of journalists.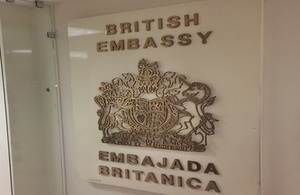 Ambassador Carter said that a free, independent, and diverse media holds government and those in power to account; it provides the platform through which human rights can be promoted and upheld; and it enables engaged and empowered citizens to be in a position to make well-informed and balanced decisions about their own lives.
In Honduras, the United Kingdom praises the role of the independent press in promoting transparency, good governance and inclusive dialogue. We are glad to support Dina Meza, founder and current president of the PEN Foundation; and recently named one of the world's 50 greatest leaders by Fortune magazine.
On the other hand, we are also concerned about the ongoing physical violence against journalists, the criminalization of their work –mostly in rural areas, the passage of laws that could exercise political control over the press, and social media misuse which promotes fake news and deliberately creates social divisionism.
We also condemn attacks on female journalists, who often face sexual and gender-based discrimination and violence, intimidation and harassment, online and offline, as a result of their work.
The United Kingdom has a strong track record of advocating for and protecting press freedom. Last year the Foreign Secretary announced £1 million to support freedom of expression projects globally. The fund will enable journalists and media professionals to promote their own free press and uphold human rights during the 2018/19 financial year.
Published 3 May 2018