Press release
Unionists walk out of talks on parades, flags and the past
The Secretary of State appeals for calm after restrictions were placed on an Orange Order parade and encourages early resumption of talks.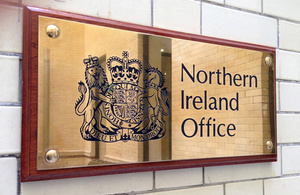 Rt Hon Theresa Villiers MP said:
The Parades Commission ruling and subsequent political developments today will provoke strong feelings from many in Northern Ireland but it is essential that the rule of law is respected in any reaction to what has happened.
The last thing Northern Ireland needs is any kind of public disorder which could put police officers at risk of injury or worse, and which would damage Northern Ireland's reputation abroad and undermine efforts to attract jobs and investment. Any reaction or protest needs to be both peaceful and lawful, as called for by unionist leaders in their statement today.
The Parades Commission is the lawfully constituted authority to make decisions on parades in Northern Ireland and their determinations have the full force of law.
It is very disappointing that the DUP and the UUP do not currently feel that they can continue to take part in the party leader talks at Stormont.
Ultimately, the only way to make lasting progress on resolving the contentious issues of flags, parading and the past has to be through renewed dialogue between Northern Ireland's political leadership. The Government will continue to do all we can to encourage and early resumption of these talks.
Published 3 July 2014