News story
UNHRC: Commission of Inquiry into human rights abuses in North Korea
Foreign Office Minister Hugo Swire welcomes the UN Human Rights Council's decision to establish an inquiry into North Korean human rights.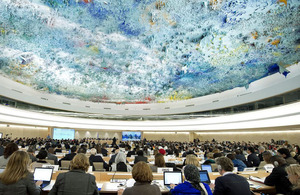 Following the decision, Foreign and Commonwealth Office Minister Rt Hon Hugo Swire said:
I am pleased that the UN Human Rights Council has today agreed to establish a Commission of Inquiry into human rights abuses in the Democratic People's Republic of Korea (DPRK). The UK took the decision to present this resolution, along with our partners in the EU and Japan, because we are extremely concerned about serious and widespread human rights abuses in the DPRK. The Human Rights Council has shown that the international community shares this concern. I call on the DPRK to co-operate with the Commission and make moves to address its appalling human rights record.
Further Information
The British Embassy in Pyongyang website
Published 22 March 2013