World news story
Una O'Brien's India visit 23 -28 February
Enhancing UK-India healthcare partnership.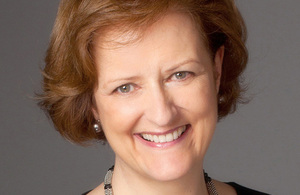 Una O'Brien CB, Permanent Secretary, Department of Health, UK, visited India 23 -28 February to help strengthen UK-India partnership in the healthcare sector. She travelled to Delhi, Goa and Pune with the healthcare UK business mission that included leading UK universities, NHS service partners and a consortium of health service providers.
In Delhi, she met her counterpart in the Ministry of Health and Family Welfare, Lov Verma, to discuss priority areas in the healthcare sector. The remit of an MoU signed in 2013 is to be expanded to identify more institutional partnerships. An MoU was signed between Public Health England (PHE) and Jawaharlal Institute of Postgraduate Medical Education and Research (JIPMER) to build capacity in public health, training and research collaboration.
Other areas identified for bilateral cooperation were how the UK can best support the development of a universal healthcare system in India including training, education and regulation of healthcare professionals and partnerships on medical science and technology.
Another MoU was signed between PHE (Public Health England) and PHFI (Public Health Foundation of India) to enable exchange of scientific and technical information, skills and expertise and to promote and develop joint initiatives in public health matters of interest to the UK and India.
Una O'Brien also visited Safdarjung hospital and the All-India Institute of Medical Sciences (AIIMS).
In Pune, Una O'Brien witnessed the celebration of a successful bilateral partnership between UK Specialist Ambulance Service and Bharat Vikas Group (BVG), who recently won a contract to supply over 1000 state-of-the-art ambulances to Maharashtra government. She also witnessed signing of an MoU by the British Centre of Clinical Excellence and Terna Dental College to train 20 doctors every year in advanced dentistry skills.
In Goa, she met state Chief Minister Manohar Parrikar, state Health Minister, Laxmikant Parsenkar and leading professionals from public and private healthcare institutes in the state.
After the visit, she said,
I am delighted by this opportunity to further the bilateral partnership on health between our two countries. My visit has been incredibly enlightening and there is real scope for mutual benefit in our relationship on health. I am pleased with the dynamic relationship we share on health, both in terms of robust commercial partnerships and deep policy ties. I am glad that I not only visited Delhi, and met my esteemed colleagues in the Ministry of Health and Family welfare, but also reached out to two very progressive Indian States: Maharashtra and Goa. I do hope to have future opportunities to visit this beautiful country and support our partnership in this crucial area of healthcare.
Further information
PHE is an executive agency of the UK Department of Health with scientific and technical expertise in different disciplines of public health including communicable and non- communicable disease control, epidemiology, health improvement, disease surveillance and emergency response and management.

The 2013 overarching UK-India MoU on healthcare comprises development of a joint work programme with a set of activities over a five-year period, with the aim to improve healthcare collaboration between UK and India.

Una O'Brien's profile

Pictures of her India visit.

India and the UK:Partners in healthcare (PDF, 1.65MB, 15 pages)

Healthcare Mission to India (24-28 February 2014) (PDF, 1.03MB, 31 pages)
Follow us on Twitter, Facebook, Flickr, YouTube, LinkedIn, Storify, Eventbrite, Blogs, Foursqare
Published 1 March 2014