UN report shows progress in Afghan led drugs control strategy
Foreign Office Minister Alistair Burt issues a statement on the UNODC 2010 Annual Opium Survey report for Afghanistan published today.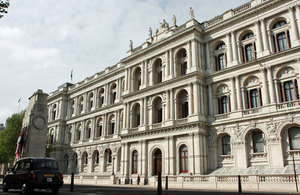 Speaking the release of the report, he said:
'The UNODC's 2010 Annual Opium Survey for Afghanistan is a welcome and important sign that the Afghan Government led National Drug Control Strategy is making progress.
The 2010 opium cultivation figures, following sharp falls in the cultivation figures over the last two years, demonstrate this - Afghan farmers are responding favourably to improvements in security and governance by choosing to grow legal crops over poppy. In Helmand, for example, Governor Mangal's "Food Zone" plan has built on last year's reduction in cultivation levels with a further decrease of 7% in 2010.
However, while I am pleased with these signs of progress in recent years, there are still challenges ahead: eliminating the scourge of narcotics from Afghanistan will take many years.'
Published 30 September 2010