UN General Assembly: Political champions commit to build disaster resilience
An agreement was made on a new initiative to build resilience in areas of the world most affected by disasters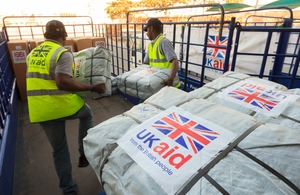 UK Secretary of State for International Development, Justine Greening, convened a meeting of donors and other partners at the UN General Assembly, alongside the UN Development Programme (UNDP) Administrator, Helen Clark, to commit to providing greater support for countries to prepare and recover from disasters.
More than 1.3 million people have been killed in disasters caused by natural hazards in the past 20 years and the threat is increasing. Greater investment in building resilience to disasters can save lives and livelihoods, and is better value for money than providing a humanitarian response or cleaning up after a catastrophe.
Innovative measures pioneered in recent years have included making schools double up as cyclone shelters, early warning or early response systems for droughts and stimulating the uptake of insurance to minimize the impact of a disaster.
In Mozambique, the death toll from annual floods and cyclones is less than a quarter of the ten year average after the government adopted flood monitoring and cyclone warning systems. Regional cooperation in the Caribbean has dramatically improved hurricane warning systems and responses, with death tolls falling as a result.
More must be done 
During the meeting, held in New York in the margins of the UN General Assembly, there was praise for countries addressing the threat of natural disasters - but there was also agreement that much more needs to be done.
As well as Minister Greening and Miss Clark, the meeting also included representatives of the governments of Japan, Mozambique, Sweden and the United States, as well as the Caribbean Community, the European Union, the Office for the Coordination of Humanitarian Affairs and the World Bank.
Representatives from the United States and the European Union provided an update on the progress being made through initiatives to build resilience they are undertaking in the Horn of Africa and the Sahel. 
There was agreement on a new initiative to build resilience in the areas of the world most affected by disasters. This will help countries to develop national resilience plans and ensure they have financial backing for disaster risk reduction strategies, as well as improve coordination between humanitarian and development assistance. Linked to this will be mechanisms to stimulate private sector engagement and support to help countries better understand and financially manage disaster risk.
Published 30 September 2012