UN estimates show fall in maternal deaths
The number of women dying due to complications during pregnancy and childbirth has decreased by 34% from an estimated 546 000 in 1990 to 358 000 in 2008, according to a new report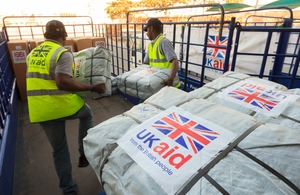 The number of women dying due to complications during pregnancy and childbirth has decreased by 34% from an estimated 546,000 in 1990 to 358,000 in 2008, according to a new report, Trends in maternal mortality, released by the World Health Organization (WHO), the United Nations Children's Fund (UNICEF), the United Nations Population Fund (UNFPA) and the World Bank.
DFID welcomed the decline in the number of maternal deaths.
The new report shows that progress is possible and that our commitments are paying off. Now is the time to increase our commitments to improving reproductive and maternal health and show that 2010 is the year in which we put lives of women front and centre of our development efforts. 
Despite this decline, developing countries still account for 99% of the deaths. This demonstrates one of the worst health inequalities of our time.
There is still a long way to go, especially for the poorest to be part of the success story.  Pregnant women still die from four major causes: severe bleeding after childbirth, infections, hypertensive disorders, and unsafe abortion. Every day, about 1000 women died due to these complications in 2008. Out of the 1000, 570 lived in sub-Saharan Africa, 300 in South Asia and only five in high-income countries. The risk of a woman in a developing country dying from a pregnancy-related cause during her lifetime is about 36 times higher compared to a woman living in a developed country.
International Development Secretary Andrew Mitchell said:
"By refocusing the UK's aid efforts towards helping women in the world's poorest countries, we can help bring down these shocking figures and boost the contribution women can make to the societies and economies of the developing world."
Investments must be increased by all partners if we are to meet the MDG. This is why the Deputy Prime Minister announced yesterday that at the MDG Summit in New York next week, he will commit to double the numbers of lives saved of women and babies through UK aid by 2015. This will save at least 50,000 more women and 250,000 babies and 10 million more couples will get access to family planning by 2015.
Published 15 September 2010