World news story
UKVI Visa Application centre in Male'
The British High Commission is pleased to announce that a Visa Application Centre (VAC) will operate in Male' on 27 August, 2014.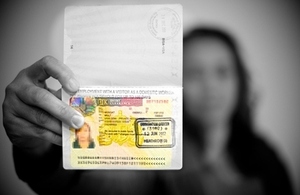 The Visa Application Centre will be located in the Ministry of Foreign Affairs and will be open from 9 am to 7 pm. Running for the second consecutive year, the Visa Application Centre is an optional one-day service which, for an additional fee, allows applicants who are resident in the Maldives to submit their UK visa application and biometric data using a mobile facility in Male'. Most Maldivians travel to Colombo or Chennai to lodge their applications; however, this one-day service allows them to do this much closer to home. The Male' VAC is part of UK Visa's proactive approach to improve customer service and is open for all categories of visa applicants.
Applicants must apply for the UK visa, pay the visa fees and book an appointment online by visiting https://www.visa4uk.fco.gov.uk/. The booking of appointments is open from 6 August till 12 noon on 25 August, 2014. The VAC does not have the facility to accept any fee in cash. Please note that the fee for using the VFS value added service also has to be paid on-line.
The British High Commissioner to Sri Lanka and Maldives, John Rankin, said:
"I welcome the Visa Application Centre which will operate in Male' on 27 August. This initiative will make it easier for Maldivians to submit their visa applications and biometric data for all visa categories, including students at this busy time of year. I hope that many Maldivians will make good use of this opportunity and apply online to meet the deadline."
Published 6 August 2014