World news story
UKTI/Shell Partnerships Facilitation Forum in Manchester
UK and Kazakhstani companies took part in the eighth Partnerships Facilitation Forum on 28 November.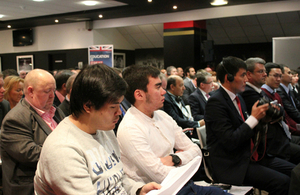 The forum was a co-operation between UK Trade and Investment (UKTI), Shell Kazakhstan and National Agency for Local Content Development. 80 UK companies and 30 Kazakhstani companies attended.
Among active participants and speakers of the forum there were:
Professor Charles Hendry, Trade Envoy of the UK Prime Minister to Kazakhstan
HE Yerzhan Kazykhanov, Ambassador of Kazakhstan to the UK
Meiram Pshembayev, Member of Majilis of Parliament of Kazakhstan
Kairat Bekturgenev, Chairman of NADLoC
There were also representatives of key oil and gas operators from Shell, BG, KMG, TCO and KPO.
The Kazakhstan delegation visited the manufacturing facility of William Hare, one of the biggest producers of steel structures, and the Engineering Centre of Manchester University.
During the forum both parties discussed potential co-operation, business opportunities in the market. They also discussed the importance of local content development, creation of new partnerships and training/development of personnel.
About the programme
The UKTI/Shell Partnership Facilitation Programme was launched by UKTI in 2011. It has cooperated with Shell Kazakhstan and NADLoC to:
facilitate partnerships between UK and Kazakhstan enterprises
increase inward investment within the Republic of Kazakhstan
build local capacity to contribute to the growth of strategic sectors of Kazakhstan
Contact the UKTI team in Kazakhstan for more information and advice on opportunities for doing business in Kazakhstan.
Published 4 December 2014