Press release
UKTI trebles number of medium sized businesses receiving export support to 3,000
Over 3,000 medium sized businesses are now receiving government support to break into new markets overseas.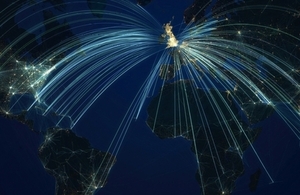 Over 3,000 medium sized businesses (MSBs) are now receiving government support to break into new markets overseas, Trade Minister Lord Livingston announced today (11 March 2015).
UK Trade and Investment (UKTI), the government department that helps UK companies succeed globally, has increased the number of MSBs assisted from 1,000 to 3,000 in the past year. Encouraging more MSBs to export is a vital part of the government's long-term economic plan to create jobs and reduce the deficit.
Lord Livingston said:
Medium sized businesses can be the driving force of the UK economy. By trebling the number receiving support from UKTI to over 3,000, we are helping to create jobs and growth across the UK.

Exporting is not just for large firms and UKTI's tailored programmes can help British MSBs to compete with the best the rest of the world has to offer.
MSBs play a vital role in the economy – despite making up just 0.5% of all firms, they currently account for around a fifth of employment and 25% of turnover in the UK. This contribution is set to grow and according to Confederation of British Industry (CBI) estimates, could be worth up to £50 billion to the UK economy by 2020.
Helping MSBs export will also benefit small UK companies: 70% of MSB suppliers come from our domestic economy.
Simon Moore, CBI International Director, said:
Our medium sized businesses contribute a huge amount to the British economy and their export performance will be crucial to our prosperity in the next 5 years and beyond.

We have worked hard to unlock this growth potential, so it's good to see government providing more support to help these types of businesses improve their export performance.

It's imperative government and other businesses continue to help MSBs sell their products and services into high-growth markets around the world.
UKTI helps MSBs with guidance on export strategies, routes to market, international business culture, sources of additional expertise, and access to the unrivalled UKTI global contact network.
In April 2014 Lord Livingston wrote to all of the UK's medium sized businesses to ask them if they would like trade support from UKTI. A target to recruit 3,000 MSBs by April 2015 has already been achieved. Companies interested in learning more about exporting opportunities should contact UKTI.
Notes to Editors
UK Trade & Investment (UKTI) provides a variety of support for medium sized businesses (companies with a turnover of between £25 million and £250 million)
Support is delivered by UKTI's regional International Trade Teams. Exporters will be assigned local UKTI trade experts to work with. Help can include: * advice and support from a UKTI International Trade Adviser * help with developing an export strategy and action plans tailored to MSBs' needs * guidance on routes to market most relevant to MSBs * advice on international business culture * access to UKTI's global network * advice on marketing research projects, including market selection and sources of information * support from UK Export Finance (UKEF) * an Intellectual Property Health check
UKTI is the government department that helps UK-based companies succeed in the global economy. It also helps overseas companies bring their high quality investment to the UK's economy – acknowledged as Europe's best place from which to succeed in global business. UKTI offers expertise and contacts through its extensive network of specialists in the UK, and in British embassies and other diplomatic offices around the world. It provides companies with the tools they need to be competitive on the world stage.
Published 11 March 2015