Press release
UKTI & TATA mentoring and partnership programme to India for high-tech SMEs
First edition of UKTI and Tata Management Training Centre joint mentoring and partnership programme for UK SMEs to be held in Mumbai and Pune 1 - 5 October 2013.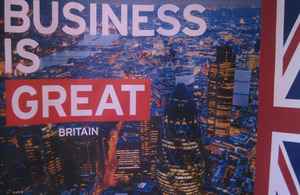 In May 2013 the UK Chancellor of the Exchequer, George Osborne, the Indian Finance Minister, P. Chidambaram and the Director of Tata Limited, Syed Anwar Hasan announced the Tata / UK Trade & Investment (UKTI) Mentoring and Partnership Programme to India.
The first edition of the programme to be conducted by UKTI and the Tata Management Training Centre (TMTC) will be held from 1 - 5 October 2013 in Mumbai and Pune. It will focus on three high-tech sectors: next-gen software industry, mobile and digital networks and green power / sustainable energy. The programme will include visits to relevant Tata companies in Mumbai and Pune and interaction with senior Tata officials and CEOs.
The programme aims to increase UK high technology SMEs' understanding of the business culture of Indian firms and emerging areas of technology development. It also aims to encourage the creation of partnerships in the Indian market, and with Indian partners for global opportunities.
To identify the most suitable high-tech UK SMEs that could benefit from the programme, UKTI and TMTC ran a competition among a large pool of UK SMEs - considering their depth of technology innovation, their capacity to scale up business and prospective areas of applicable business opportunities in India. The technology solutions offered by the selected UK SMEs are relevant to various sectors including Telecom, Energy, Power, Software and Healthcare.
The programme is being executed by Tata Management Training Centre (TMTC) Pune, the Technology Partnerships Unit in UKTI London, and UKTI India. Technology Partnerships seeks to increase the international performance of UK high-growth technology SMEs through direct trade, collaboration and partnerships.
Speaking about the programme David Landsman, Executive Director of Tata Limited, UK, said:
The Tata Group has a significant presence in the British economy, across a range of sectors. So it's important for us to be playing a wider role in growing business opportunities. For us, it has been an excellent experience working with UKTI to devise a programme to help them bring the best of innovative British SMEs to India. We've prepared the ground carefully, and it's now time for the companies to explore the market in depth and to make the connections which can lead to real business for them and their Indian partners. And, when they come back to the UK, we look forward to continuing to develop our relationships with them and to celebrating some great successes.
Dr Mukund Rajan, Member - Group Executive Council, Brand Custodian & Chief Ethics Officer, Tata Sons Ltd, said:
This collaborative mentoring and partnership program represents a new level of engagement by the group in this regard. We are truly excited at the prospects of mutual opportunities and better understanding that would emerge for both UK-SMEs and Indian businesses through this endeavour".
Kumar Iyer, Director General India for UKTI and British Deputy High Commissioner in Western India said:
Today's announcement about the Tata and UKTI high-tech SMEs Mentoring and Partnership Programme is a great example of how India and UK are a natural fit. Encouraging a critical mass of cutting edge SMEs to do business in India is one of UKTI's key aims and it will be invaluable for the SMEs to have access to Tata's business knowledge and expertise which straddles both the UK and India. I also hope that through this initiative Tata will be able to usefully extend its reach among technologically innovative UK SMEs as represented on this programme".
Further information:
List of the SMEs on the Tata/UKTI Mentoring & Partnering Programme (MS Word Document, 25.3KB)

For further information or interviews please contact Niranjan Prakash, TMTC on +91 97111 77877 / or Rekha Shekharan, British Deputy High Commission on +91 9833571954
UK Trade & Investment (UKTI) works with UK-based businesses to ensure their success in international markets, and encourage the best overseas companies to look to the UK as their global partner of choice.
Tata Management Training Centre (TMTC) is a part of JRD Tata's vision to foster an educational institution that would cultivate and contribute to the professional management of India's economic development. TMTC is a leading management knowledge center in India collaborating with renowned national and international institutions, working as a center of excellence in the practice areas of strategy, innovation, markets, consumers, finance, ethics, leadership and organization.
Follow us on Twitter, Facebook, Flickr, YouTube, LinkedIn, Storify, Eventbrite, Blogs, Foursqare. Follow UKTI India on Twitter and LinkedIn
Published 1 October 2013