World news story
UKTI Taste of Britain trade event in Vienna, Austria
Regional business event helps UK companies win business worth an estimated £1.85 million in Central, Eastern and Southern Europe.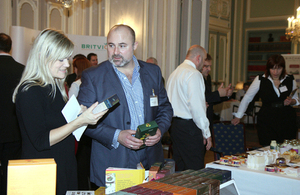 The Taste of Britain regional business events help UK companies win business in Central, Eastern and Southern European markets. This year UK Trade & Investment in Austria invited UK companies from the food and drink sector to present their products to agents and buyers from Emerging European markets at an event held in Vienna on the 21st and 22nd January 2014.
The event was a great success with direct sales achieved over the course of the two days and around £1.85 million estimated value of likely new orders following the event. All exhibitors were extremely pleased by the quality of the buyers and distributors attending the event. They took many enquiries out of which they see many potential partners. In addition, 9 distribution agreements were signed with others still under negotiation.
Opportunities in Emerging Europe's food and drink sector
Almost 104 million people live in Central and Eastern Europe, a dynamic region within the single market of the European Union. Bilateral trade with this area was worth over £41 billion in 2011, with UK exports reaching £16 billion. Moreover, UK exports of goods and services to the region have more than doubled over the past 10 years.
According to our assessment, the average growth rate of retail sales up to 2016 will be about 6% per annum, which would mean a doubling of the market within the next 13 years. In addition, the constant rise of wages in these countries means the appetite for traditional British speciality products, health foods, and organic products is increasing.
UKTI Austria Taste of Britain 2014
Taste of Britain 2014 took place in the Residence of the British Ambassador in Vienna and was organised in collaboration with UKTI staff from the surrounding region. It was the sixth version of this event reflecting the continued success of UK companies winning business in these markets.
35 UK companies took up the opportunity to showcase a broad variety of speciality foods and drinks. Over 160 carefully selected national and international delegates visited the exhibition. This included 13 Commercial Officers from Central, Eastern and South-Eastern Europe who provided the exhibitors with valuable market information about their respective countries.
British speciality foods showcased included:
Seafood, smoked salmon, beef and lamb as well as quality sausages
Beverages, including: handcrafted ales and beers, cider, premium Gin, Ginger drinks, fruit and vegetable juices
Traditional British cakes, biscuits, confectionary and speciality teas
Finest English cheese, clotted cream and other dairy products
Gourmet sauces, sea salt, exotic spices, chutneys and relishes
Cereals, health foods, premium hand cooked crisps
Both Austrian and international delegates, as well as UK exhibitors were pleased with the organisation and arrangements. James Edwards from The Original Drinks & Food CO Ltd said:
A great event which will hopefully lead to our company establishing a business relationship with importers in this region, which I have to admit was not previously on our radar. It is now!
Michael Kain from Six o'Clock Gin said:
This is exactly the type of event that premium British brands can benefit from. Very well run with a high quality of visitors.
For pictures of the event, please see our Flickr page.
Published 4 February 2014