World news story
UKTI Mongolia helps Gradon Architects set up in Ulaanbaatar
Gradon Architechture becomes first British architects to set up a design studio in Ulaanbaatar, Mongolia.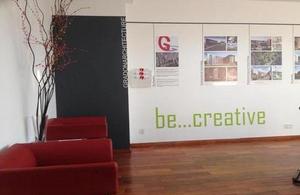 Gradon Architecture has now set up a permanent studio at the Tanan Centre in Ulaanbaatar and taken on Mongolian registered architects as part of the team.
British Ambassador to Mongolia, Chris Stuart opened the studio. He said,
The arrival of Gradon Architecture is a defining moment in bringing to Mongolia some of the best that the UK has to offer in the world of architecture.

I am delighted that Gradon as a young, dynamic and innovative award-winning practice is the first British architectural studio to establish a presence here.
How UKTI helped
The company first visited Ulaanbaatar, Mongolia in January 2011. This first visit was assisted by UK Trade and Investment (UKTI) and the British Embassy in Mongolia.
The company has used UKTI's Overseas Market Introduction Services (OMIS) to:
• gather more in-depth research • understand the local market • identify important contacts • arrange meetings with potential partners • introductions to real estate developers, construction companies and relevant government agencies
This approach was particularly useful when Gradon Architecture was thinking about setting up in Ulaanbaatar. Graham, Design Director of Gradon Architecture said.
An introduction from the British Embassy undoubtedly holds more weight than if we had approached people through a commercial agent or on our own.
Winning business in Mongolia
Following the March 2011 visit Gradon Architecture has gone on to complete a number of design projects in Mongolia from their UK Studio.
Last year, the practice submitted design proposals for a 50 energy-efficient homes in the Nukht Valley of Ulaanbaatar, which they won. They've also submitted proposals for an 18-storey hotel, apartment and shopping plaza in the city of Darkhan, which is currently going through the bidding process.
Gradon Architecture recently submitted proposals for the new ministry building off Sukhbaatar Square in Ulaanbaatar, which reached the shortlisted stage. This involved a free flowing façade design extending to 18 storeys with rooftop gardens and integrated green technologies.
As one of the coldest and most polluted places to live on earth Mongolia faces significant environmental challenges. Gradon's vision of sustainable, environmentally friendly architecture offers the opportunity to bring improved living standards.
During the last year Gradon have worked on designing a number of innovative and sustainable housing solutions. These were aimed at helping to replace the former Soviet-era building stock which is ill-equipped to cope in deadly minus 30 degree temperatures.
Gradon have also established a number of partnerships with local consultants and developers to collaborate and provide new masterplans for identified regeneration areas.
Tanja Smith, Technical Director at Gradon, said:
Our team includes Mongolian registered architects, which sends a message that we want to invest in Mongolia and its people.

As well as sharing our western cultures and experience with Mongolia, conversely we believe we can learn a lot from Mongolia – which together will make us a unique and experienced multi-cultural design team.
About Graydon
Gradon Architecture is an award-winning practice of British architects registered with The Royal Institute of Architects in London.
It's based in Ryton and offers high quality architectural design services across a range of sectors.
Contacts
Contact UKTI Mongolia for help in developing your business in Mongolia.
Published 27 February 2015