World news story
UKTI hosts Santander Bank trade mission in New York
For the second year, UK Trade & Investment (UKTI) hosted a delegation of Santander UK's business clients who are exploring the US market.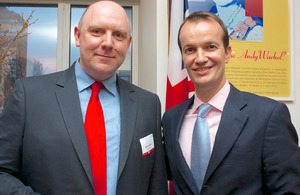 This year, nine companies representing a variety of industries formed the Santander UK trade mission: I Like Music, Dot Squares, the Yes Yes Company, i4 Product Design, Draycast Foundries, Ilkley Brewery, Warren's Bakery, Cornish Sea Salt, and Chi Drinks.
The week-long series of events started with a breakfast briefing panel discussion at the British Consulate General New York. Panelists included government and private sector experts who spoke about doing business generally in the United States and specifically in New York City, the legal and financial implications of setting up a presence, and services, incentives and resources available for UK companies looking to expand to New York City and the wider US. Brittany Banta, the Head of the Consumer & Industrial Goods trade team for UKTI US moderated the panel.
Consul General Danny Lopez hosted a reception later that evening for the delegation and nearly 100 guests, highlighting the innovation and creativity coming out of small businesses in the UK. Darren Hart, Head of Growth Capital for Santander UK, also spoke about the great potential for small businesses to grow internationally, and highlighted Santander's Breakthrough Programme as a way to support these companies.
"Santander is committed to supporting businesses at all stages of their lifecycle. Our international presence allows us to share our knowledge and expertise of overseas markets such as the US to help fast-growth businesses unlock their potential and achieve their growth plans," said Darren Hart. "Collaborating with partners such as UKTI is at the heart of the Breakthrough Programme which aims to transform the entrepreneurial ideas of today into the successful businesses of tomorrow."
Santander partnered with Empire Global Ventures on the trade mission, which arranged for the delegation to take advisory and business meetings in New York City throughout the remainder of the week.
Trade missions are a way that UKTI helps UK-based exporters succeed globally. The US market is the UK's largest single export market, but it's legal and business regulations can be complex to navigate. By bringing a focused group of companies over to explore doing business, the UKTI team can better ensure that the delegation gets in front of the right people early in the companies' exploratory stage. Trade missions also help UKTI achieve its goal of doubling its exports to £1 trillion and helping 100,000 more companies export by 2020.
Published 25 March 2013