World news story
UKTI displays UK green building expertise at KAFF
UK products and services in sustainable urban design and construction showcased at Korea Architecture Fair and Festival (KAFF) in Seoul.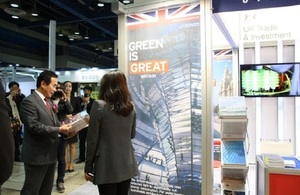 UK Trade and Investment (UKTI) South Korea hosted a booth at KAFF which ran from 29 October to 1 November 2014. Low carbon construction and retrofit expertise are highly in demand as Korea's bustling cities look to go green as part of the government's 'Green Remodelling Scheme'.
Andrew Dalgleish, Director of UKTI South Korea spoke after the event,
The UK is an international hub for green innovation and expertise.

Construction is often the unsung hero of the UK's Green industries: By 2016, all new UK homes will be built to a zero carbon standard. Alongside this, about 25 million existing UK homes will be retrofitted to be more energy efficient by the end of 2050 UK.
Showcasing UK expertise
All facets of the construction industry were represented by the 17 UK companies taking part in UKTI South Korea's booth at KAFF. They promoted their products and services in:
architecture
urban design
energy optimisation
low carbon manufacturing
As well as displaying UK sector expertise companies at UKTI South Korea's booth engaged with and fielded questions from the international audience.
Follow-up contact with South Korean companies is already in progress.
Ecobuild
A Korean trade delegation will visit the UK's 2015 Ecobuild exhibition in March 2015. They will also take part in a 'UK-Korea Green Building Forum' and reception in London.
Contact Jiyoung.Lee@fco.gov.uk if you are a UK firm in the low carbon, retrofit, or construction industries and would like meet Korean firms at Ecobuild. You can also apply to attend the forum and reception.
Find out more on South Korea's construction market. Contact UKTI to find out more about our presence at Ecobuild.
KAFF 2014
The theme of this year's event was 'The discovery of green and sustainable construction materials'.
This event ran alongside a series of international conferences and seminars on:
green remodelling and building retrofit
zero energy buildings
built environment projects
energy efficient buildings
GREAT campaign
The KAFF event was a part of the GREAT Campaign in South Korea, and its focus on Green is GREAT. This campaign has also recently included a Korean delegation visiting Global Offshore Wind 2014 in Glasgow, and UKTI Korea's display at Renewable Energy Korea 2014 in October.
Published 4 November 2014