World news story
UKTI & deVere USA Inc host financial planning seminar in New York
UK Trade & Investment (UKTI), deVere USA Inc, and the St George's Society of the State of New York co-hosted a financial planning seminar.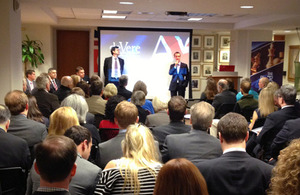 International investors and over 100 UK expatriates living in the New York area attended the event at the British Consulate General New York. Nick Baird, the chief executive of UKTI, and Consul General Danny Lopez introduced the event.
"The UK and the US have a very strong trade relationship, supporting a million jobs each in the other's economy," said Consul General Lopez. "The US remains by far the largest destination for British exports, $128 billion of them in absolute terms in 2011. Britain is still Europe's most attractive FDI destination, attracting almost 900 new FDI projects in 2011 compared to Germany's 551."
Danny Lopez invited guests to learn more about the role of UKTI in building this transatlantic network.
CEO Nick Baird added that Britain is on track to grow slightly faster than Europe in 2013, and pointed out that Britain already boasts the lowest corporation tax rate in the G7 at 24% and is set to make a further reduction to 21% by April 2014. A week later, in his 2013 Budget speech, Chancellor George Osborne would announce that the rate will fall to 20% by 2015.
Benjamin Alderson and Adrian Flambard of deVere USA then presented an economic background overview, updates on the changing tax environment, information about the Foreign Account Tax Compliance Act, advice on frozen UK pensions, and some interesting financial-planning case studies. Finally, Joseph Bilello, Vice President of Investment Management for Goldman Sachs, provided some practical advice on common investing concerns, strategies for risk reduction, and an example portfolio action plan.
Published 13 March 2013