World news story
UKTI connects New York companies with UK relocation services
This was published under the 2010 to 2015 Conservative and Liberal Democrat coalition government
Senior-level global mobility and human resources managers learned about moving to the UK, as UKTI launched a UK company in the US market.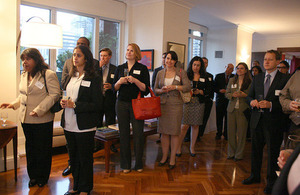 UK Trade & Investment (UKTI) helps UK-based exporters succeed globally and assists overseas companies to bring high quality investment to the UK. One way that UKTI helps UK-based companies establish themselves in the US is through their Overseas Market Introduction service, which includes hosting events in foreign markets to establish key contacts and raise awareness.
On 18 September 2013, UKTI launched Consider it Done in the US market with a reception at the British residence in New York. Consider It Done is a London-based relocation concierge that assists international assignees and their families transition to new homes and work-life in the UK. The launch also served as an opportunity for New York-based professionals in global mobility to focus on their international assignment programs to the UK. UKTI works closely with US companies looking to invest in the UK, including assistance with immigration, relocation, and recruitment.
Attendees included forty representatives from Fortune 500 companies across various sectors, including legal, media, retail, financial services, and higher education, with offices in the US and the UK. A video produced by Consider it Done was played, which highlighted setting up a life in London and their assistance for expatriates.
Document information
Published: 1 October 2013