World news story
UKTI Chief Executive meets leading Palestinian entrepreneurs
From:

Part of:

Published:

19 September 2014
This was published under the 2010 to 2015 Conservative and Liberal Democrat coalition government
Dominic Jermey met with Palestinian private sector representatives and business pioneers to discuss possible cooperation.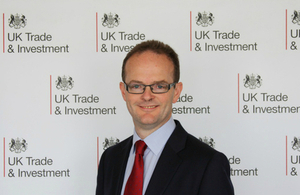 Dominic Jermey, the Chief Executive of UK Trade & Investment (UKTI), met Wednesday with different Palestinian private sector representatives and business pioneers to discuss possible cooperation. The attendees represented different sectors including, financial services, ICT, agriculture, investment, real-estate, food & drink and energy. The meeting was also attended by Michael Jilleh, Head of Prosperity at the British Consulate General in Jerusalem.
During the meeting, Mr Jermey talked about the importance of the Palestinian private sector; its resilience and its great success stories despite the challenges it faces. He also indicated their experience in operating in this challenging environment adds to the strength of this sector. He emphasized that the purpose of this visit is to fully understand the challenges the Palestinian private sector faces and opportunities it seeks.
Mr Jermey also indicated that the Palestinian private sector has a vital role to play in state-building efforts. He said that this sector plays a major role in strengthening the Palestinian economy, and therefore establishing a key pillar for an independent state in the future. He added, that by offering thousands of direct and indirect jobs, and through offering quality services and products; the whole economy will flourish. This experience can also offer the Palestinian sector with great chances to develop sustainable partnerships with British counterparts, specifically in ICT, tourism, banking, and retail sectors.
Worth mentioning that in early 2014 the UK Department for International Development (DFID) and the EU have launched a £15.3 million programme (over 6 years) to help Palestinian SMEs across the OPTs with matching grants to help them improve their products and break into new markets. This is a major and innovative investment by the UK Government in the Palestinian private and allows the scope for UK plc to assist. The programme aims to help Palestinian businesses to reduce the risk associated with product development and entry into new markets; identify market failures and facilitate market players to respond to market opportunities; and to strengthen foreign and domestic investment through technical assistance to investment promotion bodies, mobilisation of the UK Palestinian diasporas, and providing training to commercial representatives.
Notes:
Mr Jermey previously held the role of acting Chief Executive for UKTI in 2009, followed by three years as Managing Director of UKTI's Sectors Group before becoming British Ambassador to the UAE in 2010. Dominic was Deputy Ambassador and Director of UKTI in Madrid from 2004 - 7, also leading the UK's tsunami response in Phuket in early 2005. Dominic has also served in Afghanistan as Charge d'Affaires ad interim (2002), as the UK's Representative to the Warring Factions (1997-9) and set up the FCO's Afghanistan Department and Consular Crisis Department. He was the UK's Representative to the UN Transitional Administration in East Timor (2000), has served in the Balkans and Pakistan, and headed the FCO's UN Peacekeeping Team. Prior to joining the Foreign and Commonwealth Office, Dominic was with the investment bank Schroders, specialising in European mergers and acquisitions. He joined the Foreign and Commonwealth Office in 1993.

UKTI works with UK based businesses to ensure their success in international markets through exports. It encourages and supports overseas companies to look at the UK as the best place to set up or expand their business. UKTI is a non-ministerial department.
Document information
Published: 19 September 2014