World news story
UK's Special Representative for Climate Change visits Warsaw
Rear Admiral Neil Morisetti discussed the impact of climate change on national security during a visit to Warsaw on 7-8 August.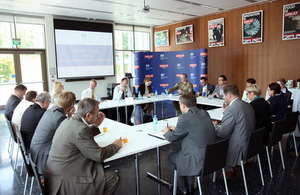 On his second visit to Poland in the last 18 months, Rear Admiral Morisetti met with senior Polish officials, business leaders, scientists as well as think-tankers and representatives from environmental organisations. The visit served to strengthen bilateral cooperation on the international climate change agenda and complemented the British-Polish dialogue on economic growth, energy security as well as trade and investment.
The main purpose of the visit was to exchange views on climate and energy security as a national and economic security issue. This and other topics, including the forthcoming COP19 meeting in November in Warsaw, were raised with Olgierd Dziekoński (Secretary of State, Chancellery of the President of Poland), Henryka Mościcka-Dendys (Under-Secretary of State, Ministry of Foreign Affairs) and General Stanisław Koziej (Secretary of State, Head of the National Security Bureau).
Rear Admiral Morisetti also championed the UK's reputation as a leading global low carbon player during a reception held at the British Business Centre, recently launched by Minister Kenneth Clarke in July. There the Admiral met with representatives of UK and Polish companies from low carbon sectors, who briefed him on their performance and further plans in the Polish market.
It was the second climate change-focused visit by a senior UK official to Poland this week, having followed the visit of the Rt Hon Owen Paterson MP (Secretary of State for Environment, Food and Rural Affairs) on 5-6 August.
Published 8 August 2013