UK's relationship with the Gulf to become stronger still
Foreign Office Minister Alistair Burt chaired a meeting of Ministers to discuss the importance of the Gulf region and to ensure that the UK's relationship with countries in the region becomes stronger still.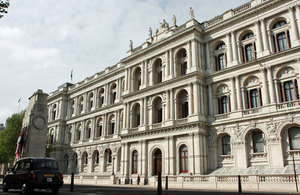 This reflects the Government's commitment to elevating relations with its partners in the Gulf, and follows the Prime Minister's visit to the region in June.
The Government has ambitious plans to expand existing co-operation across the board: in culture, education, defence and security, trade and investment, and foreign policy co-operation, and will build on already close and historic ties with the region.
Speaking at the meeting Mr Burt said "I welcome this opportunity to work closely with my Ministerial colleagues across government to promote closer and stronger relations with the Gulf region. My colleagues and I are committed to developing these ties, and we look forward to working with our partners in the Gulf in order to support our mutual security, prosperity, and cultural understanding".
Ministers in attendance were:
Alistair Burt MP, Parliamentary Under-Secretary of State, Foreign and Commonwealth Office
Alan Duncan MP, Minister of State for International Development
Damian Green MP, Minister of State for Immigration
Nick Harvey MP, Minister for State for the Armed Forces
Charles Hendry MP, Minister of State, Department of Energy and Climate Change
Baroness Neville-Jones, Minister of State for Security and Counter-Terrorism
Mark Prisk MP, Minister of State for Business and Enterprise
Lord Sassoon, Commercial Secretary to the Treasury
Susannah Simon, Director, Joint International Unit, Department for Education
Ed Vaizey MP, Minister for Culture
Search the news archive
Published 21 July 2010