World news story
UK's new Consul General arrives in Miami
David Prodger, a career diplomat, assumed his role as Her Majesty's Consul General in Miami in August.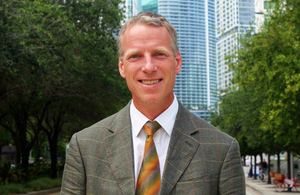 David succeeds Kevin McGurgan, who departed in July to serve as Consul General in Toronto and Head of UK Trade & Investment (UKTI) Canada.
On his appointment as Her Majesty's Consul General in Miami, Consul General Prodger said:
I am honoured to represent the United Kingdom in Florida, Puerto Rico and the US Virgin Islands. This is an exciting opportunity to work in the gateway of the Americas, which is increasingly becoming a global crossing point into the UK and Europe. I am looking forward to promoting prosperity and security as well providing the best services to British nationals with the help of our allies and partner.
From Miami, David will lead a team responsible for supporting the UK's interests and assisting British nationals across Florida, Puerto Rico and the US Virgin Islands. Florida is home to almost 20 million people, with an economy roughly equal to the size of the Netherlands. The UK is the top foreign direct investor in Florida and there are currently 340 British companies operating here.
David has served in a number of roles, both in the UK and overseas, within the Foreign and Commonwealth Office (FCO) since joining in 1999. Prior to this he worked in the private sector as a land surveyor, project manager and business development manager.
His previous post was as Deputy Head of Security Policy in FCO London where his prime responsibility was leading UK European security policy. This included: overseeing UK policy towards NATO including in preparation for the 2014 UK-hosted NATO Summit in Wales; leading the UK's EU common security and defence policy; overseeing bilateral security policy relations between the UK and other European countries; and relations between the UK and the EU and NATO Allies, as well as other partners; conventional arms control in Europe policy; and UK space policy.
David has also served as Deputy Head of Mission and Consul General at the British Embassy in Brussels, where he also led the political and public diplomacy team. Before that he was Head of the Commercial Team at the British Embassy in Buenos Aires where his main responsibilities were to promote UK exports and work closely with British investors during and after the 2002 economic crisis. He has also held other posts in the FCO covering the Middle East and Latin America.
David is married to Tiffany and has three children.
Published 26 August 2014