World news story
UK's minister supports Chongqing-UK trade and innovation on her first trip to China
The UK's Minister for Trade and Export Promotion, Rona Fairhead, visited Chongqing on her first trip to China.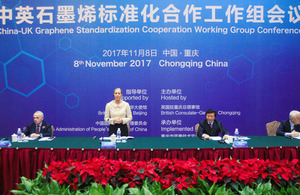 The minister opened the first meeting of the China-UK graphene standards working group. She also met with Mr. Liu Guiping, the Vice Mayor of Chongqing Municipality, re-affirming the UK government's commitment to Chongqing and UK's openness to Chinese businesses.
The first meeting of the China-UK graphene standards working group was co-hosted in Chongqing by the British Embassy and the Standardisation Administration of China. It is a significant milestone in China-UK graphene collaboration.
British Standards Institute (BSI), National Physical Laboratory (NPL) and National Graphene Institute (NGI) from the UK and 40 academics and industry figures from across China discussed specific issues around the joint development of international standards for the commercialisation of graphene.
The China-UK graphene standards working group was launched in London in June 2017.
UK is a global leader of standard setting and the R&D and commercialisation of graphene. Graphene was isolated in 2004 by 2 professors at the University of Manchester, both of whom received the Nobel Prize in Physics in 2010. It has grown to be a distributive technology. UK is also leading EU's 'Graphene Flagship' programme.
During her visit, the Minister also met with Mr Liu Guiping, Vice Mayor of Chongqing. Both agreed to proactively explore trade and investment opportunities together in the following priority sectors: automotive and aerospace, advanced manufacturing and transport and airport, construction, environment and infrastructure, consumer, creative and education, energy, information and communication technology and life science, health and social care.
In 2016, the UK was Chongqing's third biggest trading partner with exports to the municipality increased by 140%, the majority being in the automotive, aviation, advanced machinery and chemicals.
There are 83 UK companies in Chongqing in manufacturing, real estate, professional services and ICT sectors. 7 companies from Chongqing have invested in the UK since April 2016 with a value over £620 million.
The minister said:
I'm very pleased to be in Chongqing to see for myself the tangible benefits to the UK and China of our strong relationship.

The strategic partnership in establishing global standards for the commercialisation of graphene is an excellent example of our innovative collaboration.

I'm confident we will see more partnerships like this and increasing bilateral trade and investment between the UK and Chongqing as part of the continued Golden Era in UK-China relations.
The minister also promoted gender equality in businesses during a lunch with UK and Chinese companies. The UK's positive economic experience by empowering women makes it an even more attractive partner. There is lots of evidence that business does better with women in leadership positions, a gender balanced workforce and a reduced pay gap between male and female staff.
Published 8 November 2017