World news story
UK's Great Festival of Fashion, Food and Music reaches Lahore
Lahore gets the Great touch with the best of British Cuisine and classic jazz music.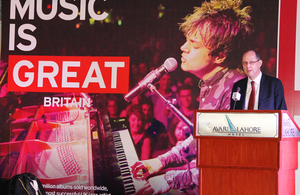 The British High Commissioner, Philip Barton CMG OBE today hosted a dinner and concert in Lahore to celebrate the final days of the Great Festival, a celebration of British and Pakistani fashion, food and music. The festival was launched on 2nd October in Karachi before it moved to Pakistan's cultural capital.
The Great Festival began in Karachi with a fashion event attended by figures from the media, business, arts, culture and the diplomatic corps and featuring a wide array of glamorous fashions. Models, clad in a fusion of British and Pakistani designer and high street brands, walked the runway at the Dolmen Mall to much acclaim. Now Lahore gets the GREAT touch with the best of British Cuisine being cooked live by British Chef Dominic South at the Avari where guests also enjoyed classic jazz from the renowned British group the Julian Joseph Trio.
Speaking at the dinner celebrating the Great Festival's arrival in Lahore, the British High Commissioner to Pakistan, Philip Barton CMG OBE said:
I feel privileged to be here in the Great City of Lahore, as the Great Festival – the biggest event the UK has ever put on in Pakistan – moves towards its conclusion. This festival shows that culturally and economically, the relationship between Pakistan and the UK really matters.
Lahore has always been famous for its love of arts, its rich cultural heritage and its vibrant people. As such, it is an ideal city to bring to an end the celebrations of the cultural connections that tie Pakistan and the United Kingdom so closely together.
The Great Festival is a celebration of what makes Britain great and also our shared relationship in the 21st century. It is about looking forward, building stronger people-to-people connections and strengthening our links in arts, culture, business and education.
The ties that join the two countries are as strong as ever. Over 100 British firms are operating successfully in Pakistan and we are working to increase bilateral trade and investment. We are also promoting the arts by working with top British creative talent, bringing high quality events to Pakistan, collaborating with local artists and cultural institutions and connecting arts professionals from both countries.
Business and culture are a central part of the relationship between the UK and Pakistan.
Further Information
Contact: Press Attaché, British High Commission, Islamabad.
Photograph from the Great Festival will be uploaded at at Flickr.
All the latest news is available on the British High Commission Pakistan website at gov.uk/world/pakistan
Follow the British High Commissioner on Twitter @PhilipRBarton
You can also follow the British High Commission on twitter @UKinPakistan, on FaceBook and on Flickr.
Published 12 October 2015