UK's dandelion to sow seeds of UK-China links
The UK Pavilion legacy will see the 60680 spines of the dandelion blown across the length and breadth of the country – and benefit charity.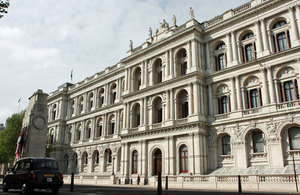 UK Pavilion
The legacy project will sow the seeds of UK China partnership in the field of biodiversity and sustainable development with schools, academic institutions and even the general public, leaving a powerful legacy which will live on far beyond the close of the Shanghai Expo.
Each of the UK Pavilion's rods contains seeds from the international Millennium seed bank project led by Kew Gardens in London. The project which contains countries around the world is a recognition of the serious threat posed to biodiversity around the world by rapid urban development.
The dismantling of the Pavilion is expected to begin immediately following the closure of Expo. Some rods from the UK Pavilion will be sent to schools involved in the UK's green school's project along with education pack, ensuring tomorrow's generation learn more about the importance of biodiveristy and nature to humanity and our future development. Some other rods also will be presented to the Kunming Botanical Institute and Kew Gardens in celebration of their role in contributing to the protection of biodiversity, while the remaining rods will be auctioned to the general public to raise money for charity.
Partnership has been the central theme of the UK's presence at Expo - of the more than 300 events has run through Expo, not a single one has not been co-organised by a CHinese organisation. The move reflects the UK's committment to working as global partner with China, from tackling global problems and science collaboration to business and trade. The ambitious legacy project echoes this commitment as the UK hopes to work with China more closely on one of the most important challenges facing humanity today.
The mastermind behind the legacy project and acting commissioner general, Carma Elliot said:
'We had offers, but just knew we couldn't simply sell the Pavilion. There is no price that can be put on protecting our biodiversity and sustainable development - these issues are essential for human development. And we want to continue to work in partnership with China to ensure our future generations are born into environment that are liveable. '
The remaining rods will then be auctioned through Taobao.com, following the successful auctioning of a single spike for an enormous RMB 20,000. Although the remaining rods are not expected to generate such a significant figure, the UK Pavilion hopes the plan will raise significant sums for the chosen charity Carecare. The charity has been a long term partner of the UK in China and the UK Pavilion construction team built a new building for them earlier this year.
Search the news archive
Published 26 October 2010