Press release
UKHO receives planning permission for new office
The United Kingdom Hydrographic Office (UKHO) has received planning permission from Taunton Deane Borough Council to redevelop its Admiralty Way Site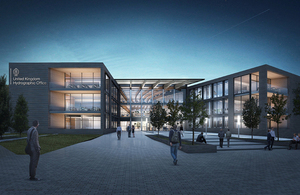 The new environmentally friendly accommodation will replace existing inefficient and expensive to maintain buildings which will be demolished once the organisation moves in to its new office in 2019. Land at the front of the site will be sold for redevelopment and outline planning permission is also being sought for a residential development on surplus land.
Chief Executive John Humphrey said "This is great news for the UKHO in Taunton. As well as bringing cost efficiency, the new building will deliver up-to-date technology and working conditions that will enable us to sustain a long-term future as a data-centric organisation."
"We value the continued support of Taunton Deane Borough Council as we create a modern working environment to be proud of and that will help us attract and retain staff as a major employer in the area."
Construction work will start on the building early in 2017 and all costs associated with the new office will be met by the UKHO from business receipts as a self-funding agency.
Published 10 November 2016