News story
UKEF appoints Davinder Mann as Head of Legal Division
UK Export Finance (UKEF), the UK's export credit agency, has appointed Davinder Mann to lead the department's Legal Division.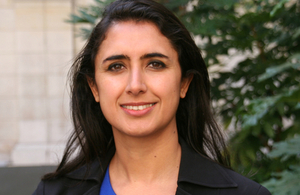 Davinder has been with UKEF since 2009, and for the last three years has led one of the department's specialist legal teams. She joined UKEF from Linklaters' Energy and Infrastructure Global Project Finance practice where she spent four years, most recently as Managing Associate. Davinder began her career with Herbert Smith, and read Law at King's College London.
UKEF's Legal Division is responsible for supporting all UKEF's underwriting activities, policy and internal projects, with expertise ranging from financial and commercial law to short term trade finance, litigation and public law.
Recent projects Davinder has been involved in include support for a Dints International contract with Gold Fields Ghana Limited. This transaction involved an innovative and bespoke financing structure to support Dints' supply chain management model and has recently been named one of Global Trade Review's Best Deals of 2016.
Louis Taylor, UKEF's Chief Executive Officer, welcomed Davinder to her role, saying:
I am very pleased to announce Davinder's appointment as Head of UK Export Finance's Legal Division, to which she brings a wealth of experience and expertise. UK Export Finance is recognised for its world-leading support for exporters, and the work of the Legal Division sits at the heart of all that we do for our customers.
Davinder Mann, Head of UKEF's Legal Division, added:
I am delighted to have the opportunity to lead UKEF's Legal Division as the department looks to deliver even more comprehensive and innovative support for the UK's exporters as they realise their ambitions overseas.
Media enquiries: Claire Lynch, Media Relations Officer
Published 15 March 2017