Press release
UKEF and Bank of Ireland partner to offer government-backed finance
UK Export Finance (UKEF), the UK's export credit agency, and Bank of Ireland announce partnership to support Northern Irish exporters.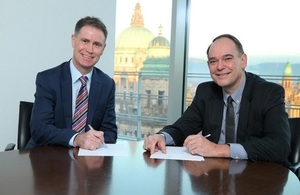 In a boost to Northern Ireland's exports, UKEF has added Bank of Ireland to its panel of affiliated lenders for its trade finance support. The agreement was signed on Friday in Belfast, and comes as the UK government looks to enhance its support for exporters through the Exporting is GREAT campaign.
Bank of Ireland customers will now be able to access government-backed finance to support their export activities. UKEF's support will take the form of guarantees on working capital loans and contract bonds issued by the Bank, meaning that exporters can access the funds they need to fulfil export contracts.
In the past five years, UKEF has supported export contracts worth over £3bn through its trade finance products, which are designed to help small and medium-sized enterprises grow their overseas sales.
This latest Bank of Ireland initiative complements the bank's broad suite of existing export supports to help businesses in Northern Ireland navigate towards the unique opportunities associated with international trade.
Gordon Welsh, Director of Business Group at UK Export Finance, said on Friday at the signing ceremony:
I am delighted that Bank of Ireland and UK Export Finance will now be working together to support Northern Ireland's exporters. With its extensive customer base of exporting and export-ready companies, Bank of Ireland will be an important partner, helping us achieve our mission to ensure that no viable UK export fails for lack of finance or insurance.
Fred Smyth, Head of Commercial Finance at Bank of Ireland UK added:
International Trade is vital in growing the Northern Ireland Economy. At Bank of Ireland we find that those customers who take the step of entering a new market tend to be very successful in that market. This partnership with UKEF further strengthens our proposition in supporting local businesses as they look to take those steps to trade around the world.
Liz McCrory, Export Finance Manager for Northern Ireland, said:
Last year, UKEF provided over £770,000 in support for £4 million of exports in Northern Ireland. I am looking forward to working with Bank of Ireland to help even more Northern Ireland companies realise their export ambitions, taking advantage of the world of opportunity out there.
Notes to editors:
UK Export Finance is the UK's export credit agency and a government department, working alongside the Department for International Trade as an integral part of its strategy and operations. It exists to ensure that no viable UK export should fail for want of finance or insurance from the private market. It provides finance and insurance to help exporters win, fulfil and ensure they get paid for export contracts.

Sectors in which UKEF has supported exports include: aerospace, construction, oil and gas, mining and metals, petrochemicals, telecommunications, and transport.

UKEF has a regional network of 24 export finance advisers supporting export businesses.

UKEF supports exporters with a range of products that include: * Bond insurance policy * Bond support scheme * Buyer & supplier credit financing facility * Direct lending facility * Export insurance policy * Export refinancing facility * Export working capital scheme * Letter of credit guarantee scheme
Media enquiries: Julia Beck, Strategic Communications Manager
Published 28 November 2016