World news story
World Malaria Day - UKaid Fighting Malaria in Kenya
This was published under the 2010 to 2015 Conservative and Liberal Democrat coalition government
The Head of DFID-Kenya, Ms Lisa Phillips, distributes 120 bed-nets to Ober Kamoth dispensary in Kisumu district to mark World Malaria Day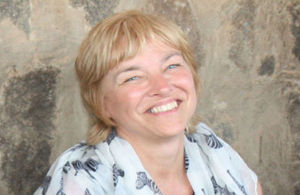 The Head of DFID-Kenya, Ms Lisa Phillips, today distributed 120 bed-nets to Ober Kamoth dispensary in Kisumu district to mark World Malaria Day. The distribution is part of 100,000 bed nets that DFID will distribute to Kisumu County this year through PS Kenya. A total of 1.2 million bed-nets will be distributed countrywide in 2014 using UKaid support.
Speaking in Kisumu, Ms Phillips said:
I am delighted to be here on this important day and distribute these bed-nets as part of the UK's contribution in the fight against malaria. Malaria remains a leading cause of illness, preventable death and a threat to Kenya's economic development. Continued leadership and investment in malaria by the government, supported by partners, is key. Our current health sector support is focused on preventing deaths due to malaria and improving maternal, neo-natal, and child health.
Between 2010 and February 2014, UK funding has supported over 6 million free bed-nets distributed through Ante-Natal clinics to pregnant women and children under one year of age and over 2.5 million will be distributed through social marketing at highly subsidised rates to the public in urban and rural areas.
In addition, over 400,000 people benefited from Indoor Residual Spraying (IRS) in North Eastern Kenya. This has resulted in over 10,000 malaria deaths being averted, almost 7,000 of which would have occurred among pregnant women and children under one year old.
DFID works closely with other partners to support the national malaria response and has supported the development of national malaria policy through World Health Organisation(WHO), bed-net procurement, distribution and promotion through PSI, Indoor residual spraying through MENTOR. Recently, UKAid have provided support for rapid diagnostic tests in the private sector through PS-Kenya.
Ms Phillips was accompanied by the Chief Executive Officer PS-Kenya Anthony Okoth, County Executive for Kisumu, Dr Elizabeth Ogaja and other county officials. The team later joined government officials and other key stakeholders at Obambo Primary School in commemorating World Malaria Day. See our Flickr Gallery for photos during the event