World news story
DFID and Turkana County government agree on landmark development project
DFID-Kenya committed to Turkana County Government to support engagement of communities, with oil companies and NGOs, for local development of areas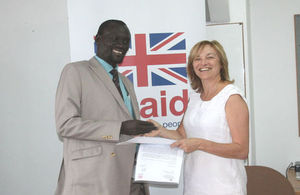 The UK's Department for International Development (DFID-Kenya) committed to Turkana County Government to support engagement of communities, with oil companies and NGOs, for local development of areas affected by oil explorations.
Speaking during the signing of the framework, Head of DFID Kenya, Ms Lisa Phillips said:
The UK is excited about discoveries of oil and gas in Kenya. It's important that there is wide consultation as the extractives industry in Kenya grows; that this brings communities in and allows them to be part of the decision making process, and to share in the benefits. This and other UK Aid projects will work to ensure that these crucial resources are developed for the benefit of all Kenyans.
The UK government has invested £3.5 million from 2014 to 2015 aimed at providing technical assistance to central Government, and to support to County level social investment in the extractive sector
Published 10 December 2014