World news story
UK works with Uganda to prevent sexual violence in conflict
Experts test the International Protocol on Documenting and Investigating Sexual Violence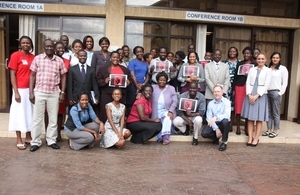 The UK and Uganda, along with 139 other countries, have signed the Declaration to Prevent Sexual Violence in Conflict . Part of this declaration supported the development of an International Protocol on the Documentation and Investigation of Sexual Violence in Conflict known as the International Protocol.
The International Protocol will be a set of practical guidelines to help practitioners recognise, investigate and document sexual violence in conflict. It will ensure that evidence, victims, witnesses and practitioners are protected throughout. This will address one of the most pressing challenges to preventing sexual violence in conflict: holding perpetrators to account with clear information and evidence.
The UK has taken the lead in developing the International Protocol. To ensure it is as relevant and effective as possible the UK needs to work together with global experts and practitioners, in particular to field test the protocol.
The first field test was held in Uganda on Tuesday 11 March 2014. 33 experts and practitioners who work on preventing sexual and gender based violence in Uganda joined a visiting team from The UK's Foreign and Commonwealth Office to review the draft protocol. These experts came together from organisations across Uganda and shared their knowledge on human rights, criminal investigations and victim support. This was an opportunity to use the excellent expertise in Uganda to test and improve the International Protocol.
Chido Dunn, project coordinator in the Foreign and Commonwealth Office said:
We were very impressed by the level and quality of the attendance at the workshop and contributions from the participants. We can only hope that the other field-tests of the protocol will be such a positive experience.
The Foreign and Commonwealth Office team will now continue field testing the Protocol in Bosnia and Herzegovina, Democratic Republic of Congo, Mexico and Colombia. It will then be launched at the upcoming summit on Preventing Sexual Violence in Conflict, which will take place in London in June 2014.
Published 24 March 2014