Press release
UK works with Gurkhas to increase support to recovering Nepal on World Water Day
On World Water Day the UK announces an extra £4.5m to fund water and sanitation work in earthquake-affected districts in Nepal.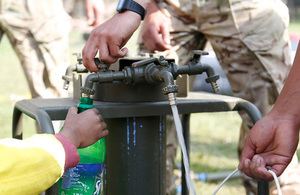 The UK is boosting its support to earthquake-affected districts in Nepal by providing an extra £4.5m to fund water sanitation work being carried out by Gurkhas, International Development Secretary Justine Greening announced today.
The funds, allocated to the Gurkha Welfare Trust's Rural Water and Sanitation Programme, will ensure clean, safe water reaches 22,500 people in remote, poor, ex-Gurkha communities in Nepal.
Almost one year on from the devastating earthquakes many of the country's existing water supplies are still damaged, with the central region of Nepal particularly affected. It is estimated that 5.5 million people in Nepal do not have access to adequate and improved water services and 16 million lack acceptable sanitation facilities.
The money announced today, World Water Day, will directly help to build 120 new water supply systems and deliver 2,850 household and 35 school latrines.
International Development Secretary Justine Greening said:
Almost a year since the devastating earthquakes in Nepal, Britain continues to stand by the Nepali people and work with the Gurkhas to help those in affected areas.

Our support will mean thousands of people, often in remote communities, can get vital access to clean water.
UK funding has to date helped 46,295 households and 306,495 people from 42 districts to benefit from the provision of safe drinking water, improved hygiene and better sanitation practices. An additional 364 school latrines have been built with full water supply facilities and hygiene–sanitation education has also been delivered in those schools.
This increase in funding brings the total amount provided by the UK (2012-2020) to £18.7m.
Notes to editors:
Tuesday 22 March is UN World Water Day

The Gurkha Welfare Trust's Rural Water and Sanitation Programme (RWSP) focuses its intervention on relatively poor ranking districts, particularly those which have a high need of water supply and sanitation coverage. The RWSP also seeks to ensure the inclusion of poor and excluded caste/ethnic groups, religious groups and women's groups as well as fostering decentralised district responsibility, whilst integrating with the National Sector Programme. The majority of schemes will be built in the remote and water-deprived communities of Nepal. These areas are usually overlooked or avoided due to the physical challenge of construction and the lower population density.

Follow us on Twitter: @DFID_UK
General media queries
Follow the DFID Media office on Twitter - @DFID_Press
Published 22 March 2016