UK wine industry pledges 10-fold increase in exports
The UK wine industry celebrates a corker 2015 with a pledge for a tenfold increase in exports by 2020.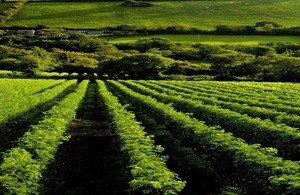 Britain's wine producers are set to take the fizz out of French champagne by pledging a tenfold increase in exports by 2020, helping to increase their value to over £30 million, announced Environment Secretary Elizabeth Truss today.
The new targets come after the Environment Secretary called the first ever wine roundtable bringing together producers and leading wine industry representatives to celebrate the worldwide success of UK wine and agree to boost future production and open up new export opportunities.
These include:
A 10-fold increase in wine exports, increasing from 250,000 bottles to 2.5 million bottles by 2020. In terms of value, this would be an export increase from £3.2 million to over £30 million by 2020
An ambition to grow the area of planted vineyards from 2000 hectares to 3000 hectares by 2020
An increase in production from 5 million bottles per year to up to 10 million bottles by 2020
Access to new data on soil types, water resources, and infrastructure networks to identify the best areas of land are for production.
The new targets will be backed by the government's Great British Food Unit, launched this year, to turbo charge exports, boost inward investment and support emerging British companies to export overseas. The government also pledged to help producers identify an additional 75,000 acres across the country suitable for sparkling wine production by making available new data on soil types, water resources, and infrastructure networks to ensure the future sustainability of the industry.
Environment Secretary, Elizabeth Truss said:
There has never been a more exciting time for the English wine industry. Production has doubled in the last five years, with sales reaching a record breaking £100 million in 2015. By using cutting-edge technology our hard-working grape growers are now producing some of the best wine in the world.

Our goal is to harness the ambition of our English wine producers by flying the flag for British produce internationally and exploiting the huge potential for increasing exports. I have no doubt we can take on the Australians, French and Italians at their own game, exporting more of our top quality fizz across the globe and ensuring that the UK's wine industry continues to be a world-leader.
The English and Welsh wine industry is going from strength to strength, with the area of land under vine doubling over the last ten years and sales reaching a record breaking £100 million in 2015.
This builds on the UK's position as leading vintner in the world as our wine merchants bring innovative new brands and unique flavours to market. In the EU, total wine exports reached £168 million in 2015, with growing markets in Portugal, Spain and the Czech Republic.
Demand for English bubbles now reaches all corners of the globe. From China to Hong Kong, the USA to India, leading brands such as Ridgeview, Chapel Down and Bolney wine are now rivalling the very best French champagne.
Miles Beale, Chief Executive of the Wine and Spirit Trade Association, said:
English wine is earning itself a world class reputation for quality. And with government support there is a sparkling future ahead. English wine's potential and ambitions for rapid growth are clear in the aims, agreed today, to double production and to see exports increasing ten-fold by 2020.

The first ever English Wine Round Table was a fantastic opportunity to have a full and frank conversation about how Government can support the industry to meet its goals by 2020.
Chief Executive of Chapel Down, Frazer Thompson, said:
As English wine continues to surprise and delight more and more consumers and we plant more and more vineyards, so our ambition continues to grow.

It's clear that there is a significant opportunity for great English wine brands to develop their International sales and profile and excite the Worlds wine drinkers.

We have a great story and exquisite products. We welcome the round table, which not only demonstrates some serious commitment from Government, but also represents another key milestone in the growth of this hugely exciting industry.
Sam Lindo, a member of English Wine Producers (EWP) and UKVA Chairman said:
The excellent reputation of English wines both domestically and internationally continues apace; new markets and opportunities are opening up all the time. We anticipate our exports to increase from what is currently 5% of production to represent up to 25%, with an estimated value of £30m by 2020. We warmly welcome the opportunity to work more closely with DEFRA to realise these ambitions.
Barry Lewis, CEO of United Kingdom Vineyards Association (UKVA) said:
We are truly delighted that the Secretary of State is so engaged with English wines and has already provided much-needed data to help us achieve our growth aims in the next five years.
He also commented:
Investment in this industry has to date exceeded £60m - not only has this led to a significant growth in production, but also created more skilled employment and boosted the rural economy.
Pierpaolo Petrassi, MW Head of Wine Buying at Waitrose said:
We are delighted to have truly led the market in terms of English and Welsh wine. We have seen sales increase dramatically as customers enjoy the excellent quality and taste of our home grown vineyards, which now rival anywhere in the world.

We look forward to adding to our range this year and particularly providing opportunities for very small producers to supply a national supermarket for the first time.

As part of our growing export business, we now offer English wine to the supermarkets we supply overseas. Being able to offer an international market for English vineyards is a fantastic development.
Further information
Since 2010, the Government has opened over 600 new markets across the world, helping to support over 4,000 food and drink businesses sell their produce abroad.
Home grown sparkling wine makes up 66% of our total wine production.
In October 2015, Defra released new 3D mapping LIDAR data, tiny variations in their land to pinpoint the best location to plant vines that will thrive.
There are around 500 vineyards in England and Wales covering 4,500 acres. Source: English Wine Producers.
This year's International Cool Climate Wine Symposium will be held in Brighton on 26-28 May and brings together the world's leading producers and experts in cool climate winemaking, research and promotion.
For more information on this press release, contact the Defra press office on 020 7238 6140
Photo credit: Camel Valley Vineyard
Published 3 March 2016